October 5th, 2012 |
1 Comment
We flat out love football. Check out part 1 here, and part 2 here.

With Jeremy Maclin being hampered with injury, the Eagles have been heavily relying on DeSean Jackson. He had a great game last week against the Giants (which was fantastic for my fantasy team), and we hope that that success translates during the in-state rivalry game against Pittsburgh this Sunday. We've got some Steeler fans in the office, so I can't talk TOO much smack this time! This week we'd like to introduce DeSean's Orient Watch pick: the Journeyman (CFA05002B).
The most blatant feature on this gorgeous piece is the World Time function. This feature is great for avid travelers and international businessmen as it will tell you time in any given part of the world. From Los Angeles, to Dubai, to Sydney, you won't miss a beat.
The readability of the watch is also very prominent. The black dial and white indices create a classic contrast and make it easy for the wearer to tell the time. This is what wearing a watch is all about right?
The build quality on the Journeyman is impeccable. In the model that DeSean chose, the case and bracelet feature a black ion-plated coating. Orient's method of application regarding IP coating is on par with all other majors, including Seiko and Citizen, so rest assured that it is among top quality. The dialed is covered with a sapphire crystal so you have the assurance that this time piece is built tough all around. The sapphire crystal is highly scratch resistant and will continue to keep your watch brand new. The back side of this piece also features an exhibition case back so you can see the watch tick; just as you do.
A classic Orient watch would not be complete without our signature power reserve function as well as date function. Both of these are extremely useful in the everyday—and combined with the previously mentioned features; make up one of our sleekest, most polished watches to date.
The Journeyman also comes in stainless steel! And it looks just as awesome!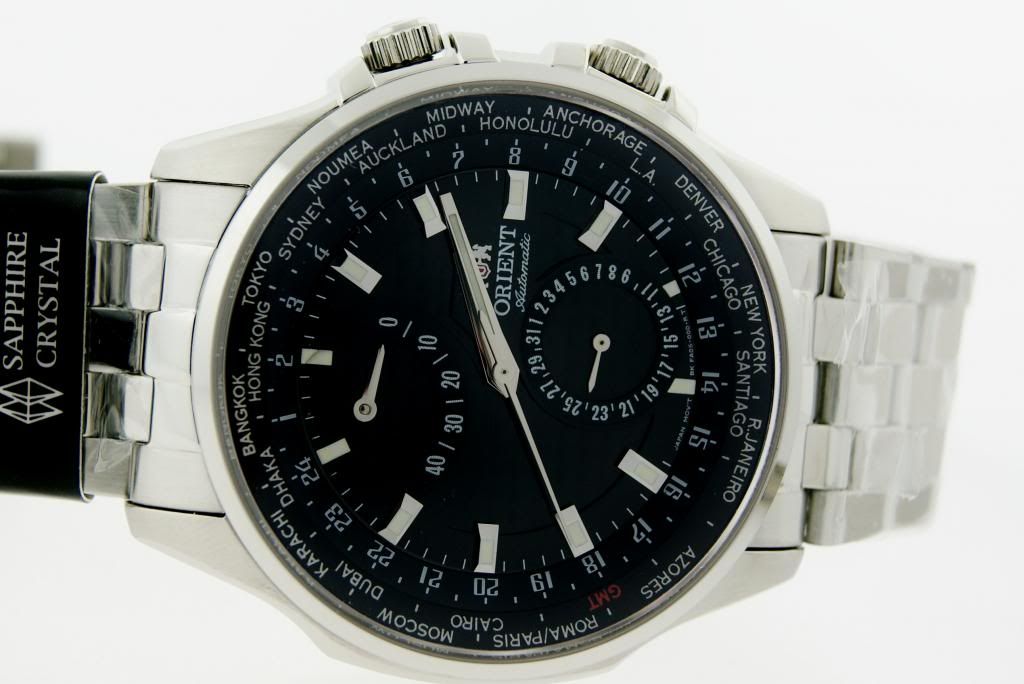 Okay, so I know I can't impartial to the Steelers this Sunday. So as a bonus to the Steeler faithful, please note that The Bus loves the Journeyman as well!

1 Comment | Tell us what you think!

By Tenesha Perry on Oct 7, 2012

I love the look of these watches, and they are affordable as well. I would love to have one for myself and my husband.